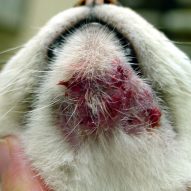 How to treat feline acne | Dr. Justine Lee
Does your cat  have feline acne? Believe it or not, cats get acne too. Feline acne appears as bumps under the chin. Some tips to help get rid of feline acne?
Simply removing plastic water and food bowls will help immensely.
Try witch hazel or Stridex pads to wipe and blot the acne gently once or twice a day.
Sometimes, topical antibiotics or oral antibiotics from your veterinarian may be necessary.*
When in doubt, check with your veterinarian or dermatologist for help! It's important not to just reach for your local acne cream for humans, as these often have poisonous chemicals that are dangerous to cats (e.g., salicylic acid, etc.). Also, don't apply a triple antibiotic topical cream to cats, as rarely, cats can have a severe anaphylactic reaction to triple antibiotic! Here, a video with some hints on how to treat it!