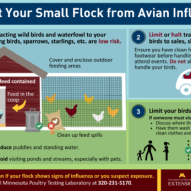 Everyone should be on the lookout for avian influenza
For all you backyard chicken owners or bird lovers, please read below about the dangers of a highly dangerous avian influenza!
Information directly from the MN Board of Animal Health:
Multiple cases of Highly Pathogenic Avian Influenza (HPAI) have been identified recently in several states. A Eurasian H5N1 strain of HPAI was found in many wild birds along the Atlantic flyway and now it is in commercial poultry in the Mississippi flyway.
In light of the developing HPAI situation in the U.S., the Minnesota Board of Animal Health and University of Minnesota Extension have developed an informational flyer on HPAI.
The need for poultry producers to practice good biosecurity, increase surveillance and report sick birds is crucial during the spring wild bird migratory season.
If you have flocks exhibiting any clinical signs of influenza or you believe they might have been exposed to birds with the disease, immediately call your veterinarian.
If you are a veterinarian and receive reports of clinical signs of avian influenza, call the Minnesota Poultry Testing Laboratory at 320-231-5170.
Call the Minnesota Duty Officer if it is after hours or on the weekend at 1-800-422-0798.