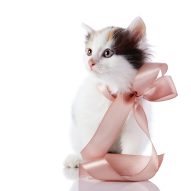 6 simple tips to keep your cat healthy & happy | Dr. Justine Lee
When it comes to keeping your cat happy and healthy, here, a few veterinary recommended quick tips!
Keep your cat indoors or supervised while outside to prevent any trauma (e.g., being hit by a car, attacked by a dog, accidentally poisoned, etc.)
If you do think your cat has been poisoned, make sure to contact your veterinarian or the ASPCA Animal Poison Control Center immediately for life-saving care! To be safe, pre-program your cell phone with their phone number (888) 426-4435.
Make sure to keep your cats in good body condition – this can help prevent costly problems like diabetes mellitus down the line (Check out the video below).
Make sure to schedule your annual visit with your veterinarian – this is so important as we can pick up on physical abnormalities sooner. Note that even if your cat is indoors, he or she still needs an annual exam; you can skip some of the vaccines (and schedule them to every third year instead!) but don't skip on the exam!
Keep the kitty litter box clean. While this sounds simple, frequent and daily cleaning of the box is a must. Not only will this alert you to life-threatening emergencies like feline urethral obstructions, but it'll make you aware if your cat is urinating more or less than usual… this helps pick up medical problem sooner!
Seek veterinary attention as soon as you notice any clinical signs – not months after your cat has been urinating and drinking excessively!