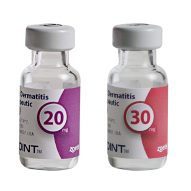 A new treatment for dogs with hay fever (atopy) | Dr. Justine Lee
The veterinary drug company, Zoetis, just released a new treatment option for dogs with atopy (e.g., canine hay fever – instead of sneezing and sniffling, dogs itch instead from allergies!). This new drug called Canine Atopic Dermatitis Immunotherapeutic (CADI, for short), is now available for both general veterinarians and board-certified veterinary dermatologists to use.
This is an injection of the molecule IL-31, and is an antibody injection to help manage and treat dogs with allergic skin disease. IL-31 is one of the substances that causes itchiness, so when you use CADI, it acts as an antibody for IL-31. This binds to the IL-31 and deactivates it, making the dog less itchy (e.g., pruritic). In other words, there's a protein in dogs with atopic dermatitis that is important in making them itch – and CADI helps bind to and neutralize that protein.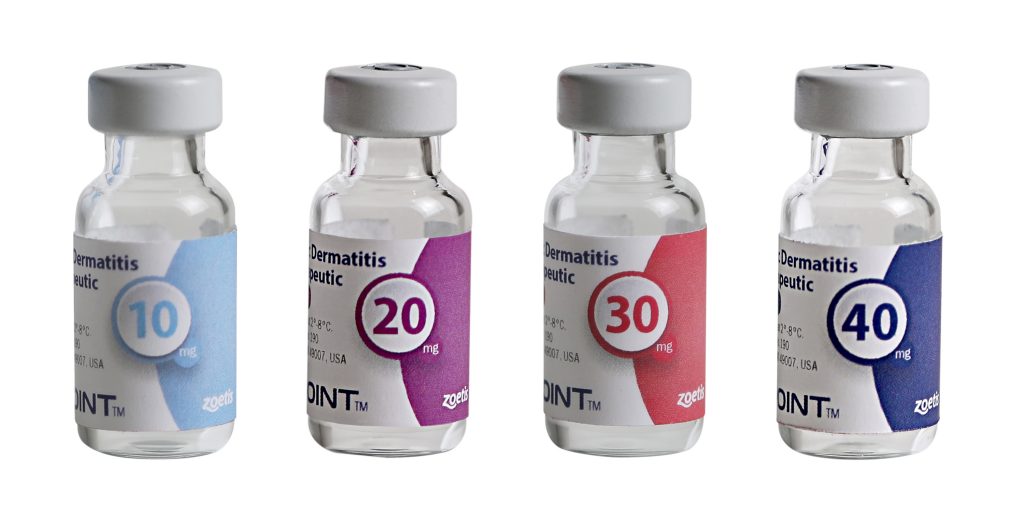 This new treatment is given as an injection to dogs – your veterinarian or veterinary dermatologist will give it under the skin (e.g., subcutaneously) as needed, up to once monthly. (Most dogs get release for 1-2 months). It can still be used with other medications (e.g., anti-histamines, steroids, etc.) while your dog is being treated for his or he atopy. However, it cannot be used in cats, as it's a dog antibody!
So, does it work?
In the veterinary studies that have been done, 80% of dogs did achieve a significant, measurable improvement in their severity of itchiness (per the pet owners). In approximately 50% of the cases, skin redness improved (according to veterinarians).
Keep in mind that this new treatment drug is not an anti-inflammatory – it only takes away the signs of itchiness, so your dog will still need to be appropriately treatment with medications as needed to control the atopy (which may including topical treatment, prescription weekly shampoos/mooses/creams, etc.).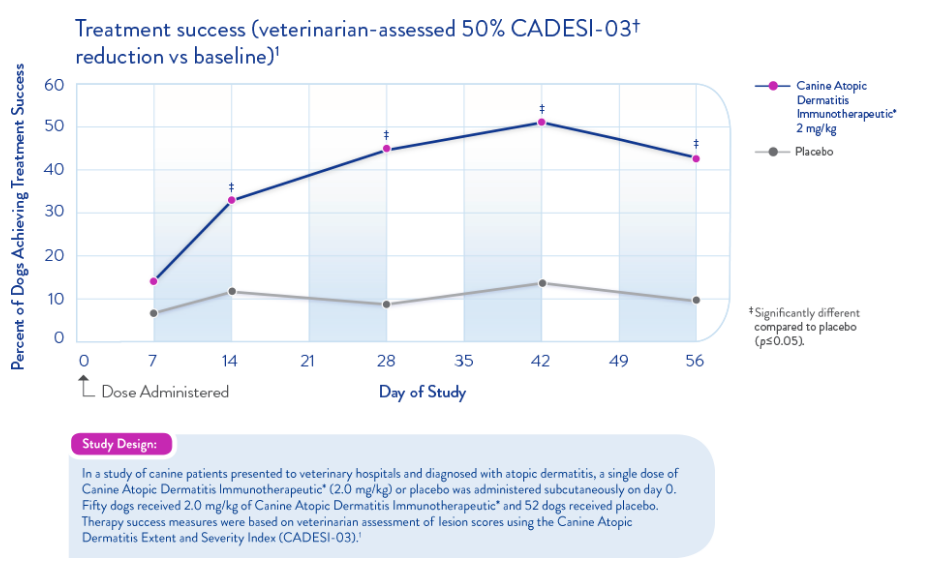 Are there are any signs effects?
You can see the adverse effects below, but so far, most of the effects are gastrointestinal related (e.g., vomiting, diarrhea) and lethargy in a small percentage of dogs.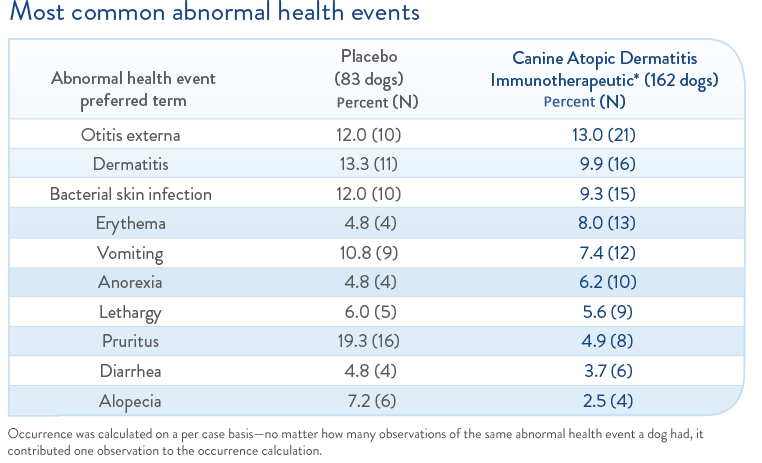 How much does it cost?
IL-31 antibody CADI varies in price based on the size of your dog, but when in doubt, talk to your veterinary dermatologist about it. On average for a 10 pound dog, it is approximately $50-60/injection, while for an 80 pound dog, it would be closer to $100-150/injection.
If you or your veterinarian have any questions about the drug, or think your dog may have had a possible adverse effect, please make sure to always call the drug company directly to report this. While side effects are rare, they should always be reported. You can call Zoetis' Veterinary Medical Information and Product Support (VMIPS) at 1-888-ZOETIS-1.
For more information, go to Zoetis or talk to your veterinarian or veterinary dermatologist.