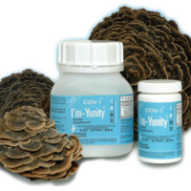 Mushroom I'm-Yunity for dogs with cancer
December 2019
If your dog was just diagnosed with one of my most hated cancers: hemangiosarcoma (typically of the spleen, liver and right atrium of the heart), read on. I've previously written about hemangiosarcoma here.
While surgery and chemotherapy are invasive, there are a few newer options out there. Including a few holistic medications like turkey tail mushroom and yunnan baiyao.
I've also written about some up and coming research about newer drugs (called e-BAT), but honestly this one isn't even accessible to veterinarians yet (and will be years before it is).
Dr. Dorothy Cimino Brown, former Professor of Surgery at University of Pennsylvania and now Senior Research Advisor of Translational Comparative Medical Research at Elanco, has published some preliminary information on the use of the Coriolus versicolor mushroom, known commonly as the Yunzhi mushroom in dogs with cancer.
This mushroom, which has been used in Chinese medicine for more than 2,000 years, is thought to contain immune-boosting properties from polysaccharopeptide (PSP). The specific product being used is I'm-Yunity, made by Chinese Medicine Holdings LTD.
Years ago, a preliminary University of Pennsylvania pilot study that was released in 2012 evaluated 15 dogs diagnosed with hemangiosarcoma that were treated with 25, 50, or 100 mg/kg/day of I'm-Yunity. While there wasn't a statistically significant difference in survival between the three dosage groups, the median survival time was highest in the 100 mg/kg/day group, at 199 days. As as result, a second clinical trial is currently being conducted to evaluate dogs diagnosed with hemangiosarcoma. This will evaluate dogs treated with I'm-Yunity alone, dogs treated with I'm-Yunity + chemotherapy, or dogs treated with chemotherapy alone.
Unfortunately, there are no studies showing if other brands work. To be honest, I'd use I'm-Yunity as that's where all the research has been, and I'd be scared to experiment with other ones that haven't been tested. However, I'm Yunity is pretty expensive. Other brands of Turkey Tail extract are out there too (Host Defense, Aloha Medicinals, etc.). #ad
As a veterinarian, I'm excited to hear the results, as this devastating, aggressive cancer, as this cancer sucks. As an emergency veterinary specialist, there aren't a lot of good options with this cancer: euthanasia, emergency surgery and blood transfusions, chemotherapy (post-surgery), etc. but now we have a few holistic options!
Share below – have you had success with these medications?
My heart goes out to you if your dog was diagnosed with cancer. You can read about my journey with JP and his cancer here.
Best,

Update January 2023:
The most recent studies unfortunately don't show that this extends survival. See information below: