Best pet-friendly mats ever! Smartcatcher Mats review | Dr. Justine Lee
Any dog owners out there that hate spring time? The only reasons why? The huge amount of now-thawed 3-month old poop piles all over the backyard, and the mud that your dog tracks into the house!
What about you cat owners? Who else besides me hates having kitty litter track all over your house?  (Trust me, I wouldn't trade my two cats for the world… and now that I switched to SwheatScoop, I definitely have less kitty litter hatred!).
Well, I just discovered the Smartcatcher Mats  and I'm in love. I live in the Twin Cities of Minnesota, where it's cold, snowy, and icy 6 months out of the year, and muddy for an additional 1-2 months of the year. So, I put a Smartcatcher at the front door, back door, and right by the kitty litter boxes, and haven't been happier.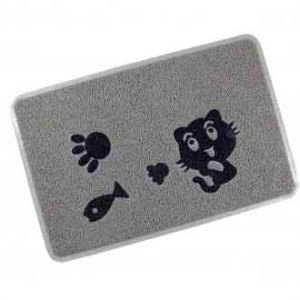 Now, in full disclosure, I hate to clean. (That's also why I purchased a Roomba, but that's another story. Hello, Roomba! Let me be your veterinary rep, as I rave about your product!).
So, that's why I love the Smartcatcher mats. They are really well made, tough, sustainably made (per the company), and made with "advanced loops and scraper technology." What the heck does that mean? I means its durable yet your cats don't want to use it as a scratching post, and there are no dangerous pulls or pieces of string, thread, fabric, or yarn that potentially can be swallowed. They are also really pretty soft, especially for soft pads on young puppies and kittens. The mats are made from  premium vinyl, and supposedly are 3x stronger than regular litter mats.  They also have a non-slip backing with streamlined edges, and have a really nice design. Well done!
Secondly, the mats have a really solid waterproof backing, so when my dog and I walk into the house, the snow, sleet, salt, and sand catch directly into the mat – leaving my floors free of dirt and salt! Due to the texture, the moisture traps in easily and doesn't seep out the back of the mat, protecting my hardwood floors (like that's a joke in a household with 3 pets and 12 feet with nails scraping it!).
So, I've since replaced my three fabric throw rugs with these Smartcatcher Mats. Plus, my two cats – who traditionally love to vomit on my throw rugs – can now vomit on these easy-to-wash-and-trap-all-that-vomit mats!
Two thumbs (and two paws) up from this veterinarian!