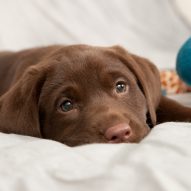 Chocolate poisoning: My dog ate chocolate! | Dr. Justine Lee
OK, I admit it. Once in a while, I throw my dog a chocolate chip cookie. Is it a big deal?
When it comes to chocolate poisoning, it's the dose that makes the poison. One little chocolate chip isn't going to cause a problem, but keep in mind that when it comes to chocolate, the darker and the more bitter the chocolate, the bigger the poisoning problem.
According to ASPCA Animal Poison Control Center, chocolate is the #1 toxin that dogs get into! (Cats apparently have too discriminating of a palate, and prefer greens/plants instead of chocolate!).
As all our holidays appear to focus on chocolate (e.g., Valentine's day, Easter, Halloween, Christmas), it's no surprise that dogs have access to chocolate all year round! Chocolate abounds! And don't forget about all the other sources of chocolate around the house, including the following: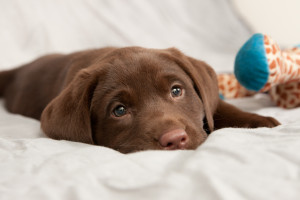 Multivitamins (e.g., Viactiv chewable calcium pills)
Chocolate liquor
Chocolate-covered espresso beans (my favorite, but a double whammy poisoning to dogs since there's caffeine in it too!)
Baked goods
Most pet owners are aware that chocolate is poisonous, but keep in mind that it's the amount and type of chocolate that makes it poisonous. While the occasional chocolate chip in one cookie isn't an issue, certain types of chocolate are very toxic to dogs.
Chocolate contains a chemical called methylxanthines (most commonly, theobromine, a relative of caffeine). When dogs ingest it, the methxylxanthines can result in the following clinical signs:
Agitation
Vomiting
Diarrhea
Hyperactivity
Lethargy
Increased thirst
Heart arrhythmias
Hypertension (a high blood pressure)
A racing heart rate
Tremors
Seizures
Death
Clinical signs of poisoning can be seen with as low as 20 mg/kg of theobromine. Amounts > 40 mg/kg of theobromine can result in cardiotoxicity – in other words, it's poisonous to the heart and can result in a racing heart rate and heart arrhythmias. Amounts > 60 mg/kg of theobromine can result in neurotoxicity – in other words, it's poisonous to the nervous system and can result in tremors, seizures, or even death.
The problem is that there are variable amounts of theobromine in different types of chocolate.
White chocolate has very little "real" chocolate in it, and rarely poses a threat. For a 50-pound dog, it would take over 100 pounds of white chocolate to result in true chocolate poisoning. That said, they'd get sick from all that fat and sugar, which can result in other problems (like pancreatitis).
Milk chocolate has more true cocoa in it. It may take up to eight ounces (half a pound) to cause poisoning in a 50-pound dog. As for more concentrated, bitter types of chocolate? Baker's chocolate and dark chocolate pose the biggest problem. Only 1 ounce of Baker's chocolate could result in severe poisoning in a 50-pound dog.
If your dog just ate chocolate, keep in mind that with any type of poisoning, it's always cheaper, less invasive, and has a better prognosis/outcome if you treat it early (in other words, seek veterinary attention immediately!). Once your dog is already sick and affected by the poison, it's much more expensive to treat!
Treatment for chocolate poisoning includes inducing vomiting (depending on when the chocolate was ingested), giving activated charcoal several times (to bind the chocolate from the stomach and intestines), anti-vomiting medication, and potentially IV fluids and heart medication (e.g., beta-blockers).
When in doubt, avoid chocolate poisoning in the first place by keeping it safely out of reach… particularly during the holidays!
Check out the chart below to figure out how much theobromine is in different types of chocolate. When in doubt, you can always call your veterinarian or ASPCA Animal Poison Control Center at (888) 426-4435 to determine if the amount of chocolate ingested was poisonous or not. Better yet, download their free app and chocolate calculator here! 
Table 1. Amount of theobromine and caffeine per ounce of food item
| | | |
| --- | --- | --- |
| Product | Theobromine | Caffeine |
| White chocolate | 0.25 mg/oz | 0.85 mg/oz |
| Milk chocolate | 44-60 mg/oz | 6 mg/oz |
| Dark semisweet | 135 mg/oz | 20 mg/oz |
| Unsweetened baker's chocolate | 390-450 mg/oz | 47 mg/oz |
| Dry cacoa powder | 400-737 mg/oz | 70 mg/oz |
| Cacoa beans | 300-1500 mg/oz | |
| Cocao bean mulch | 56-900 mg/oz | |
Table 2. Toxic dose of milk chocolate (60 mg/oz) for dogs
| | | |
| --- | --- | --- |
| Weight (in kgs)** | Mild reaction (20 mg/kg) | Moderate to severe reaction (> 40 mg/kg) |
| 2.5 | 0.8 oz | 1.7 oz |
| 5 | 1.7 oz | 3.3 oz |
| 7.5 | 2.5 oz |  5 oz |
| 10 | 3.3 oz | 6.7 oz |
| 15 | 5 oz | 10 oz |
| 20 | 6.7 oz |  13.3 oz |
| 25 | 8.3 oz |  16.7 oz |
| 30 | 10 oz |  20 oz |
| 35 | 11.7 oz |  23.3 oz |
| 40 | 13.3 oz |  27 oz |
| 45 | 15 oz |  30 oz |
| 50 | 16.7 oz | 33 oz |
** Find out how to calculate kgs to pounds here.

As previously published on www.PetHealthNetwork.com.
Photo by Jonathan Moreau // cc
Photo by Porto Bay Events // cc