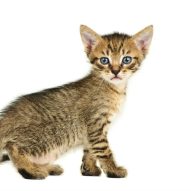 Cold weather safety tips for cats | Dr. Justine Lee
Need some veterinary advice on how to keep your cats safe from cold weather this winter? As winter approaches, we want to make sure our four-legged feline friends are safe from the elements. If you let your cat outdoors, please pay heed and read, so you know how to keep your cat safe this winter.
As I'm based out of Minnesota (where it's winter 6 months out of the year), I know how severe cold injuries can be to cats. Here, some cold weather tips on how to keep your cat safe:
While ice salt is only mildly poisonous to cats, it can cause irritation to the skin, paws, and gastrointestinal tract (when directly ingested). As cats are fastidious groomers, they will groom and ingest the poisonous chemical directly. Make sure to use pet-friendly ice melters (which don't contain salt). More importantly, since you don't know what your neighbors have put down, make sure to use a damp cloth to wipe off your cat's paws after coming into the house.
If you let your cat outside for prolonged periods of time, consider making a "cat house" for them. One simple way? Use a large Styrofoam cooler, fill it with straw, weigh it down (so it doesn't blow away), and cut a small side door into it. You might need to entice your cat to use it by placing some cat treats in there. This provides a warm, safe shelter when you're not readily available to let your cat indoors.
Make sure to provide a safe, warm shelter also. More importantly, make sure to "bang" on your car hood before starting the car (this is particularly important if you see paw prints on your hood!). Cats often hide under a car hood when it's warm, and can develop severe fan belt injuries (including broken jaw bones, severe lacerations, etc.) when the car is started.
Avoid the use of space heaters or other sources of external heat, due to the potential for carbon monoxide poisoning, accidental fire, or thermal injury to your pet.
If you take a close look at some of the feral cats in your town, you may notice that their ear tips are missing. This is often due to frostbite, which can scar down the tips of the ears. Cats typically develop frostbite on poorly hair-covered areas, including the ear tips and paw pads.
Winter doesn't mean that you have to hole up with your pet indoors – you should still enjoy the beautiful, cold outdoors. It provides stimulation, exercise, and fresh air. Just make sure you're keeping your pet safe from these cold weather dangers!

As previously published on www.PetHealthNetwork.com.
Photo by Sergiu Bacioiu // cc