Congestive heart failure in dogs | Dr. Justine Lee, DACVECC, DABT, Board-Certified Veterinary Specialist
Congestive heart failure (often abbreviated CHF) is due to failure of the heart, a pump, to push blood into the tissues, resulting in secondary backup or pooling of blood into the lungs (pulmonary edema), into the chest cavity (pleural effusion), or into the abdominal cavity (ascites). CHF can occur from the following causes:
• A congenital defect (e.g., inherited at birth) of the heart (such as ventricular septal defect, patent ductus arteriosis, subaortic steonosis, etc.)
• Chronic valvular heart disease/endocardiosis (where the values of the heart become too leaky and inefficient)
• Abnormal rhythms of the heart (called arrhythmias)
• Dilated cardiomyopathy (DCM)
• Cancer (of the heart muscle)
• Pathology of the heart sac that surrounds the heart (called the pericardium)
• Infectious diseases (such as heartworm infection, parvovirus infection, Trypanosomiasis, etc.)
• Endocrine causes (such as hypothyroidism or hyperthyroidism)
• Drug effects (secondary to a chemotherapy drug called doxorubicin)
• Miscellaneous (e.g., toxins, etc.)
Breeds predisposed
Certain breeds and sizes of dogs are more at risk for CHF. Smaller breed dogs (such as miniature Poodles, Cavalier King Charles Spaniels, Dachshunds, etc.) are more predisposed to chronic degenerative changes to their heart valves (called endocardiosis), while giant breed male dogs such as Doberman Pinchers, Great Danes, Irish Wolfhounds, Newfoundlands, Labrador retrievers, and Saint Bernards are more predisposed to DCM. Rarely, Portugese Water Dogs can also develop DCM. As for cats, please see the handout on "Congestive heart failure in cats" for further details.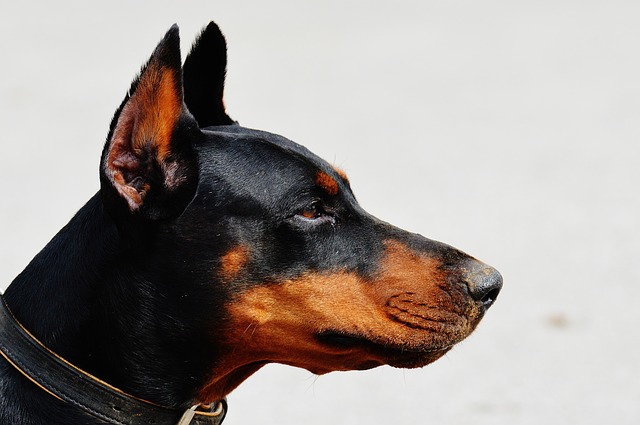 Clinical signs
There are two types of CHF that can develop: left-sided and right-sided. Clinical signs seen with these types of CHF include:
• Coughing, particularly at night
• Increased respiratory rate at rest (above 40-50 breaths/minute)
• Constant panting
• Noisy breathing
• Pale or blue gums
• Difficulty breathing
• Stretching of the neck out to breath
• Coughing of blood
• Exercise intolerance
• Weakness
• Collapse
• Muscle wasting or weight loss
• An elevated or slow heart rate
• A distended belly (secondary to fluid accumulation from right-sided CHF)
• Acute death
Diagnosis
The diagnosis of CHF in dogs typically starts with a thorough physical examination by your veterinarian (including careful auscultation with a stethoscope for the presence of a heart murmur, abnormal heart rhythm, or abnormal lungs sounds). Additional tests to diagnose CHF include:
• Chest x-rays to evaluate heart size, to look for the presence of abnormal fluid within the chest cavity (pleural effusion), or to look for the presence of abnormal fluid within the lungs itself (pulmonary edema)
• Electrocardiogram (ECG) to evaluate the electrical conduction of the heart and to look for the presence of arrhythmias or abnormal heart rate
• Baseline blood work to make sure the kidneys, liver, and other organs are working appropriately
• Urinalysis to make sure the kidneys can concentrate appropriately prior to the start of heart medications
• Echocardiogram, an ultrasound of the heart, to evaluate the structure and function of the heart and its values
• Blood pressure to evaluate if your pet is hypertensive or hypotensive, both of which can be seen with cardiac disease
Treatment
CHF is typically a life-threatening emergency that warrants an immediate trip to your veterinarian or emergency veterinarian. If you notice any of the clinical signs of CHF, immediate treatment with oxygen, intravenous (IV) catheter access, and diuretics are typically required. Once stabilized, diagnostics such as chest x-rays, ECG, and echocardiogram are warranted to look for cardiac abnormalities (e.g., such as a dilated left atrium or poor contractility of the heart).
Unfortunately, most types of cardiac disease (e.g., endocardiosis, DCM) are not curative – even with medication. Our goals of medical treatment of cardiac disease are to preserve your pet's quality of life, to help their heart beat as efficiently as possible, and to prevent CHF. Cardiac medications typically need to be given for the rest of your pet's life; again, keep in mind this does not cure the disease.
Rarer congenital types of cardiac disease can be curative with advanced cardiac procedures such as surgical intervention, balloon valvulopasty, or coil embolization, but need to be addressed immediately (typically as a young puppy) to have a good prognosis.
Specific treatment for CHF includes:
• Diuretics or "water pills" (e.g., furosemide, spironolactone) to help prevent fluid accumulation
• Angiotensin-converting enzyme inhibitor (ACE-inhibitor) drugs (e.g., enalapril, benazepril) to help prevent salt and water retention in the body, and to block the hormones that result in CHF
• Dietary salt restriction to prevent fluid retention
• Drugs such as pimobendan or digoxin that help the heart beat more efficiently
• Therapeutic intervention to drain the extra fluid from the chest or abdominal cavity (via a sterile needle and collection set called a thoracocentesis or abdominocentesis, respectively).
• Follow-up examinations and blood tests at your veterinarian or with a veterinary cardiologist to monitoring for side effects from the heart medication (to look specifically at your pet's kidney function, blood pressure, heart rate, etc.).
Prevention
Unfortunately, there's not a lot that you can do to prevent the development of heart disease in your pet. Here, a few suggestions:
• When purchasing a pet, always make sure to choose a breeder that screens for congenital or inherited defects. Top-notch breeders will take their entire litter to a veterinary ophthalmologist and cardiologist to make sure none of the puppies have congenital defects (e.g., Newfoundlands and subaortic stenosis).
• If your pet ends up being diagnosed with cardiac disease, make sure to inform the breeder so they don't propagate the trait. This is especially important with Maine Coon cats, Doberman pinchers, and Boxers, as they develop severe, inherited heart disease.
• Keep your pet trim – the extra weight from obesity can add extra strain to the heart and lungs.
• Routine veterinary exams – don't skip the routine, annual exam with your veterinarian! The sooner we diagnose a heart murmur on examination, the sooner we can intervene and monitor the progression of it.
• If your pet does have a heart murmur, don't blow it off. Getting chest x-rays and an echocardiogram by a board-certified cardiologist (who are experts at performing this difficult test) are highly recommended to evaluate and stage the disease and need for medications.
• If your pet has a heart murmur – or if they have ever gone into CHF before – it's important to monitor your pet carefully for any signs. By monitoring respiratory rate at home (count the number of breaths your pet takes in 15 seconds and multiple by 4 for the total breaths per minute) is > 40-50 breaths/minute at rest, a veterinary check is a must.
Ultimately, the goal of treatment of CHF is to preserve quality of life and to treat the heart failure with medication. With medical management, some pets can live for years with cardiac disease and an excellent quality of life!