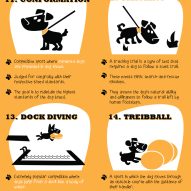 Creative ways to exercise your dog! | Dr. Justine Lee
Not sure about what options you have for exercising your dog? Check out this great infographic by Tom at Clippers Ireland!
Over the past few years, new forms of doggie exercise have come to the forefront. Whether your pooch prefers running to agility, surfing to swimming, there's now something for every dog! Just like humans – dogs get bored of the same exercise routine which is why it's important that you're continuously stimulating your dog physically and mentally. It is a fact that bored dogs develop negative behaviors which they will typically take out on our people and your possessions! If you find that your furry friend is discontented by your typical exercise routine, maybe it's time to switch it up.
Once you've chosen your preferred dog sport, there are many international competitions that you and your beloved companion can compete in. Exercising your dog is not only good for their health, it also allows both of you to build trust. Exercise has also been proven to limit dogs' attention seeking behaviors. Clippers Ireland have created this excellent infographic that highlights some creative ways that we can exercise our dogs. For all the info on creative canine fitness, let's take a look at this infographic below!
What activities do you play with your dog? Let us know in the comments below!