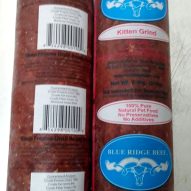 Deaths from frozen raw food for kittens | Dr. Justine Lee, DACVECC, DABT, Board-Certified Veterinary Specialist
What do you feed your kitten, puppy, dog or cat?
There has been a recent recall of Blue Ridge frozen raw food due to deaths from Salmonella. First, as a veterinarian, I never recommend raw food in young puppies and kittens. Not only are they immunosuppressed from an immune system, but they also require a very careful balance of calcium and phosphorous. An AAFCO balanced food is imperative at this age (e.g., puppy food, kitten food).
http://www.foodsafetynews.com/2018/03/blue-ridge-beef-recalls-pet-food-kittens-deaths-reported/#.Wp6hi5PwbBJ
When in doubt, please check with a board-certified veterinary nutritionalist before even considering a diet like this in your puppy or kitten. You don't want your pet to die from what you feed them!