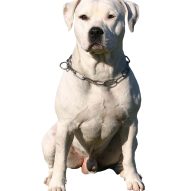 Do dogs get Ebola? | Dr. Justine Lee
In my Pet Health Network blog, both Dr. Jeff Werber and I I talk about whether or not dogs can get Ebola. Here, some great information from the Washington State Department of Health, which has put together some good information about the risk of catching Ebola from a pet. The talking points were developed in close consultation with the Centers for Disease Control (CDC).
There is no evidence that pets become sick with Ebola from routine contact with people who are infected with the virus.
There is no evidence that pets can transmit Ebola to humans through routine contact.
We do suggest that, in the rare instance that a pet is determined to be potentially exposed, the pet should be evaluated by a veterinarian in consultation with the State Public Health Veterinarian and Local Public Health.
A potentially exposed pet should have limited contact with people for a minimum of three weeks from the time of potential exposure to the virus.
CDC is working with the American Veterinary Medical Association and the US Department of Agriculture to develop more specific guidance for pet owners and veterinarians.
As we saw from the sad death of #RIPExcalibur, there's no need to rush into fatal decisions… When in doubt, contact your veterinarian with any questions.