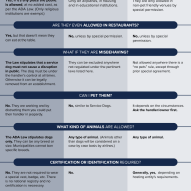 How legit are service dogs? | Dr. Justine Lee, Veterinary Expert
Nowadays, I see a ton of service dogs – however, there's lots of question about the presence and legitimacy of service animals in public spaces… especially on airplanes. Unfortunately, a few bad apples ruin it for those who legitamitly need a service dog.
Here's a great infographic from Orvis on this!
In recent years, there has been a significant increase in the number of "Assistance Animals" turning up in public places, helping their handlers who suffer from a wide variety of disabilities and afflictions. At the same time, unfortunately, there has also been an increase in confusion about these animals which has sparked some controversy. This can be distressing to those who depend on them to help cope with everyday life. Take a look at the chart below to view the differences between service dogs, emotional support animals and therapy dogs.