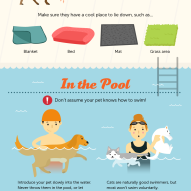 How to keep your dog safe around the pool this summer! | Dr. Justine Lee
Summer Swimming: Pool Safety With Your Dog
The dog days of summer are when many of us hit our backyard swimming pools, but just like our two-legged children, our four-legged friends should also be supervised when enjoying this great outdoor activity. Besides some of the obvious threats that face our pets, like being on the lookout for signs of dehydration and overexertion, we should also beware of other potential perils found underneath the summer sun.
While the infographic below warns us of many temperature concerns, some of us don't know just how hot some of the outdoor surfaces surrounding pools can reach during summer months.
Concrete and cement commonly found surrounding pools rang in at 125℉
Red bricks that are regularly found on patios came in at a stinging 135℉
Black asphalt found on the majority of our roadways rises to a scorching 140℉
At the lower temperatures, these surfaces are certainly capable of inflicting pain, but some of those higher numbers could cause serious burns, permanent damage and scarring.
When you're poolside with your dog or cat, make sure they have access to plenty of cool, fresh drinking water, a shady place to lie down and a nice towel or blanket to avoid possible burns. Check out the infographic for more safety tips in and around the pool.
Thanks to Amber Kingsley for designing such a great infographic!