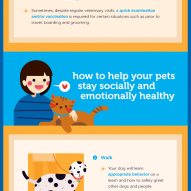 How to keep your dog or cat healthy and happy | Dr. Justine Lee, DACVECC, DABT, Board-certified Veterinary Specialist
You probably schedule a regular check-in with your doctor—even if nothing is wrong—just to make sure that all your "systems" are in good working order. If you have kids, you know that doctor checkups are a regular part of any healthy growing routine, too: Kids need shots and have milestones checked by a healthcare professional. So why should it be any different for your young or adult pets? It shouldn't.
When domesticated animals are born, they're just like humans in one way: They don't have the immune system that they'll have once they get a little older. That's why establishing a good relationship with your vet—so they get to know your pets and so you get to know what to take care of to ensure your animals' health—is so important. As with young people, young animals need extra shots and extra care. If you're unclear where to start, or what it takes as an animal ages, check out the tips in this graphic.