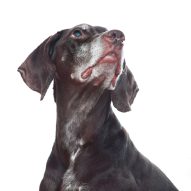 National Service Animal Eye Exam Event | ACVO & Stokes Pharmacy team up!
Have a service dog? Does he or she have eye problems? Read on for a great opportunity for your dog!
Kudos to the American College of Veterinary Ophthalmologists (ACVO) and Stokes Pharmacy. They are offering their 8th annual National Service Animal Eye Exam Event. Since this event has taken place back in 2008, over 30,000 service animals have been helped!
This event takes place in May and provides free eye exams to eligible service dogs (which includes guide, handicapped assistance, military, search and rescue, detection,registered therapy animals, and certified-current that serve the public.
Note: the fake service dog jackets don't apply here (Vet pet-peeve, btw). Your service animal has to be legit – an active working dog that's been certified (e.g., formal training, currently enrolled, etc.).
So, if you have a service dog, make sure to register between April 1 through April 30 via an online registration form. Once you're registered, you'll get a registration number that gives access to participating ophthalmologists in your area. Make sure to call soon to schedule your complimentary eye appointment, as the wait list for ophthalmologists is long!