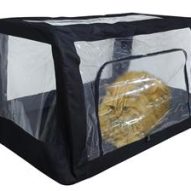 Do you need an oxygen cage for your pet at home? | Dr. Justine Lee
As an emergency critical care veterinary specialist, I often see cat and dog patients who have underlying respiratory issues that need to be treated long-term. It's really important to treat respiratory problems aggressively, as without treatment, it can cause a) difficulty breathing and pain in your pet and b) worsen the long-term side effects on your pet. Untreated, respiratory problems can cause pulmonary hypertension (often called cor pulmonale), which is high blood pressure to the lungs. This adds secondary strain to the right side of the heart, and can cause severe long-term complications.
Respiratory problems that often need to be treated long-term in dogs and cats include:
Tracheal collapse (seen commonly in Yorkshire terriers and other small dogs)
Chronic bronchitis
Pulmonary fibrosis (seen especially commonly in West Highland white terrier dogs)
Feline asthma (seen especially commonly in Siamese cats)
Pulmonary hypertension
When in doubt, talk to your veterinarian about how to treat these diseases. When in doubt, you can schedule a consultation with a cardiologist (for heart problems) or an internist (for respiratory problems).
Treatment will depend on what the underlying cause is, but may include the following:
Weight loss (This is very important, as the extra strain on the lungs and heart is terrible for your pet!)
Cough suppressants (e.g., hydrocodone, for tracheal collapse)
Sedatives (e.g., butorphanol, for tracheal collapse)
Diuretics (e.g., furosemide, for heart failure)
Bronchodilators (e.g., theophylline, albuterol, for asthma or bronchitis)
Steroids (e.g., prednisone, prednisolone, fluticasone, for asthma or bronchitis)
Drugs to decrease the blood pressure to the lungs (e.g., Viagra, for pulmonary hypertension)
Heart medications to make the heart beat more efficiently (e.g., pimobendan, enalapril, etc., for heart disease)
In severe cases where dogs can't live without oxygen therapy, we will rarely send pet owners home with oxygen cages and oxygen therapy.
Here's a new Kruuse oxygen cage that was recently released in North America that can be used either at the veterinary clinic or at home for oxygen therapy.
This does need the accessory oxygen kit too to appropriately hook up the oxygen cannister safely to the cage.
Keep in mind that you should always check with your veterinarian before using this, and ideally, bring your pet to a veterinary emergency room to make sure they are stable. In the least, this cage can be used for safe transportation to get to the emergency clinic when your pet has difficulty breathing!
When in doubt, if you ever notice your dog or cat having difficulty breathing, please get to a veterinarian or emergency veterinarian right away for life-saving treatment!
Please also note that I do NOT have this available for purchase – this is only available for purchase through veterinary supply companies like Henry Schein or Midwest Veterinary Supply – you can ask your vet to purchase directly. Thank you and good luck with your little one!