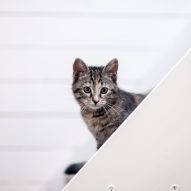 New cure for Feline Infectious Peritonitis | Dr. Justine Lee, DACVECC, DABT, Board-certified Veterinary Specialist
As a veterinarian, one of my most hated feline diseases is Feline Infectious Peritonitis, commonly abbreviated FIP. This is more commonly seen in purebred cats, and is due to a coronavirus that mutates into a very dangerous disease. It can result in dry or wet FIP, and you can find more information at Cornell's Feline Health Center.
Previously, there was never a good diagnostic test (no easy blood test) or cure for this. Thankfully, some new research has just come out on this thanks to researchers at Kansas State University and the University of California-Davis veterinary schools. This study was funded by Morris Animal Foundation, and was recently published in September 2017 in a study called "Efficacy of a 3C-like protease inhibitor in treating various forms of acquired feline infectious peritonitis" the Journal of Feline Medicine and Surgery.
You can download the article HERE.
The researchers discovered an antiviral drug, 3C-like protease inhibitor GC376, and tested it in a clinical trial of 20 client-owned cats that were diagnosed with FIP. As of time of the publication, 7 of the cats were in remission from FIP. According to Dr. Kim, "We found that most of the cats, except for those with neurologic disease, can be put into clinical remission quickly with antiviral treatment, but achieving long-term remission is challenging with chronic cases."
That said, being that this disease has always had such a terrible, poor prognosis before, this gives some hope for veterinarians and cats owners.
Please note that this new antiviral drug is NOT yet readily available, but we hope with more funding and research, we can get this life-saving antiviral available to help cure FIP!