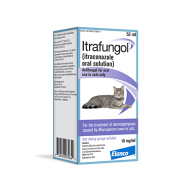 New treatment, Itrafungol, for cats with ringworm from Elanco | Dr. Justine Lee, board-certified veterinary specialist
YEAH! Awesome news for all cat owners, cat lovers, and cat rescuers out there! Elanco Animal Health is releasing a new drug called Itrafungol (an antifungal oral solution) to treat cats with ringworm. Having had to bathe my 15-year-old cat every 3-4 days with lime sulfur dip baths for one month to treat his ringworm PLUS having to treat him with $1000-worth-of itraconazole (from the local Walgreens), I'm so excited to hear this! As it's sold in 52-milliter bottles at approximately list price of $40, this would be very costeffective for a cat. One bottle treats a 10-pound cat for the entire 3-week treatment protocol.
Below, the press release on this new ringworm treatment for cats!
Have you had to treat a cat for ringworm? What worked for you and your cat?  Itrafungol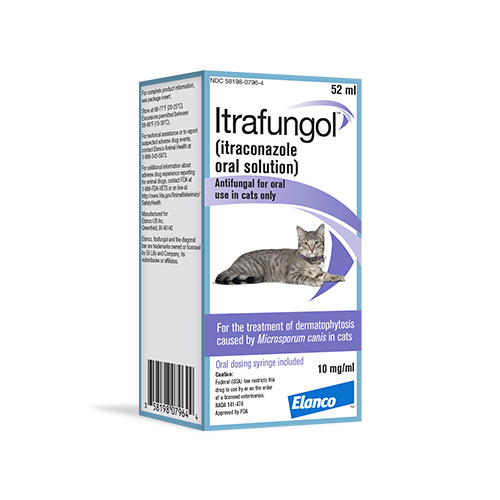 FDA Approves Itrafungol, a New Animal Drug for Treating Ringworm in Cats
November 14, 2016
The U.S. Food and Drug Administration today announced the approval of Itrafungol (itraconazole oral solution), a new animal drug for treating dermatophytosis caused by Microsporum canis in cats. Commonly called ringworm, dermatophytosis is a fungal infection of the skin. Itrafungol works by selectively binding to certain fungal proteins, causing irreversible structural degeneration of the fungi.
In cats, 98% of ringworm cases are caused by a fungal infection identified as M. canis. Cats with ringworm typically have patches of hair loss, scaling, crusting, and redness, with or without itchiness. Most skin lesions are found around the ears and face or on the legs. The disease is most commonly seen in kittens.
Ringworm is zoonotic, meaning the disease can spread from animals to people. Some cats with ringworm show no skin lesions and can be the source of infection for other animals and people. The fungus can also live on surfaces like bedding and towels that the cat may sleep on.
Although itraconazole is considered less toxic than many other drugs in the same class, such as ketoconazole and clotrimazole, there's still a risk for side effects. Reported side effects of Itrafungol in cats include decreased appetite, vomiting, diarrhea, increased salivation, and elevated liver values.
The FDA is aware that oral formulations of itraconazole compounded from bulk drug substances are available through many compounding pharmacies. Animal drugs compounded from bulk drug substances are not approved animal drugs, which means they have not undergone premarket review for safety, effectiveness, and quality. FDA-approved drugs have data that demonstrate that the drugs are safe, effective, and properly manufactured so they have the intended quality and effect. Itraconazole products compounded from bulk drug substances for animals are unapproved animal drugs.
The agency is also aware of reported problems with the effectiveness of oral formulations of itraconazole compounded from bulk drug substances. Specifically, published studies show that both the amount of itraconazole that is absorbed by the body and how fast it's absorbed vary significantly between formulations compounded by different pharmacies, the same pharmacy at different times, or manufactured under different conditions. The FDA recommends that veterinarians prescribe FDA-approved Itrafungol, instead of itraconazole compounded from bulk drug substances, for cats that need to be treated with itraconazole.
Itrafungol must be prescribed by a licensed veterinarian because professional expertise is needed to correctly diagnose ringworm in cats and determine the best treatment. Because the disease can spread to people, owners of infected cats should see their healthcare provider if they develop any skin or scalp lesions. People should wear gloves when handling the cat during treatment or when cleaning the dosing syringe. People should also wash their hands and other exposed skin after handling the cat.
Itrafungol is manufactured for Elanco US Inc.