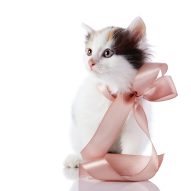 New Years Resolutions for You and Your Cat | Dr. Justine Lee, DACVECC, DABT, Board-certified Veterinary Specialist
New Years Resolutions for You and Your Cat
As the New Year approaches, it's a great opportunity to get a fresh start on everything. After all, it's our "one" time of the year when we can recommit to our goals.
So, as a veterinarian, I want to be able to provide you some resolutions that will help you and your feline friends live a longer and healthier life. After all, we know that sharing a household with a cat (or two!) can help keep depression, heart disease, and hypertension at bay. So as a token of our appreciation, why not follow these 8 simple, veterinary-recommended New Year's Resolutions… for you and your cat's sake!
1. Cut back on 25% of your cat's food
2. Increase water intake
3. Provide environmental enrichment
4. Take the time to exercise your cat for 5 minutes a day
5. Start a pet savings account
6. Get the right tools
7. Do blood work in lieu of vaccines this year
8. Keep a clean, safe environment for your cat
Cut back on 25% of your cat's food
Loving your cat does not mean feeding him or her more. In fact, over 40-70% of our pets are obese in America. Not only does obesity in cats contribute to diabetes mellitus (which requires twice a day insulin injections), but it also increases medical costs. That's because that extra weight puts a strain on your cat's heart, lungs, and orthopedic system. In canine studies, the skinnier the dog, the longer they live (typically by almost 2 years). While this study hasn't been replicated in our feline friends, the same is likely true. When in doubt, cut back on the amount that you are feeding by 25%. More importantly, break up mealtime into several meals to help your cat feel more satiated. My hint? Feed your cat a portion of his or her meal in a puzzle toy (e.g., such as balls specifically designed to release food when physically manipulated). This will also help provide some much needed environmental enrichment. Better yet, consider getting a PortionPro or SureFeed Microchip Feeder
that will help you regulate the amount you feed your cat.
Increase water intake
One of the easiest things you can do to improve your cat's health this year is to increase water intake. That's because one of the leading causes of death in cats is chronic kidney failure. Likewise, a few common feline diseases – like diabetes mellitus, hyperthyroidism, and urinary problems – require careful water balance in the body. If your cat has one of these medical problems, it's important to offer fresh, clean, water. Make sure to change out the water at least once a week. Alternatively, consider purchasing a cat water fountain
to encourage additional drinking. Finally, try canned food that provides 70% water. I actually gruel canned food with more water to help increase the water content for my cats.
Provide environmental enrichment
One of the reasons why cat ownership is so popular is because they can "fit" easily into an apartment – but that doesn't mean that they don't need environmental enrichment to help stimulate their mind, express their predatorial instinct, and help increase exercise. Again, try putting your cat's meals in puzzle toys (e.g., Buster cubes, etc.) instead. You can also use hollow toys to help stuff canned food in, so cats have to physically work to get their food reward. Most importantly, lots of cat toys
, sparkle balls
, and human playtime.
Take the time to exercise your cat for 5 minutes a day
Cats need exercise too. 5 minutes doesn't sound like a lot…so please commit to it. Literally set your smartphone timer, grab a laser pointer or feather-on-a-string toy, and let the playtime begin! This will help provide environmental enrichment and help your cat slowly lose weight too. Another way to help increase exercise? As long as your cats don't have orthopedic problems (like arthritis, healing fractures, etc.), consider putting your kitty litter, food and water, and bed on different levels of the house if you can. It'll help burn off some calories each time they wander around.
Start a pet savings account
Veterinary care can be expensive but so important to help keep your cat healthy and safe. My recommendation? Start a pet savings account that is linked directly to your bank account. Name it after your cat ("Tigger fund") so it encourages you to save. Set up automatic monthly transfers from your checking account so that can contribute $30-100 a month. That way, you'll have money available in case of a pet emergency! Alternatively, investigate pet insurance; there are some types that cover just emergency care, which might be just what you and your cat need.
Get the right tools
When it comes to your cat, splurge on the goods. Nothing makes grooming easier than using a Furminator. When it comes to your cat's litter box, splurge on a big box – even something like a large plastic storage bin (with low walls, especially if you have a geriatric cat). Studies have shown that cats prefer it. Another expensive splurge? A HEPA air filter for your house. This is especially important if you have a cat with asthma or use a dusty, clay or clumping cat litter. I run my HEPA filter in the same room as the litter boxes to help remove any dangerous dust particles in the environment.
Do blood work in lieu of vaccines this year
Believe it or not, your cat does need an annual veterinary exam each year – especially as they approach the middle-age years (around 8-9 years of age). So, work with your veterinarian. Your cat may not need vaccines at that age – instead, consider splurging on once a year blood work instead. That's what I do for my 9 year-old and 16 year-old cats. I want to be able to pick up on early signs of disease like kidney failure or hyperthyroidism, all of which can be treated when diagnosed early. Help keep your cat living a longer life with this veterinary-recommended tip!
Keep a clean, safe environment for your cat
Part of your responsibility as a good pet owner is to provide a safe household. Some easy tips? Keep dangerous poisons like fresh cut flowers or bouquets (e.g., Asiatic or Easter lilies), over-the-counter medications (e.g., Tylenol), and prescription medications (e.g., ADD medications or antidepressants like Effexor) out of reach. Also, keep stringy material (e.g., yarn, thread, dental floss, tinsel) out of the house – this can accidentally wrap around your cat's tongue and get stuck in the stomach, resulting in a life-threatening linear foreign body (which requires an expensive surgery to repair). If you do think your cat was poisoned, make sure to have the ASPCA Animal Poison Control Center's phone number on speed-dial! (888) 426-4435
When in doubt, work on these simple, safe, easy New Year's Resolutions this year – it'll keep you and your four-legged feline household living long!