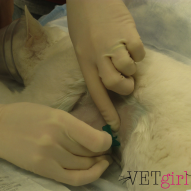 How to perform a thoracocentesis | Dr. Justine Lee
This blog is dedicated to all those veterinarians out there saving dog and cat lives!
As an emergency critical care specialist, a thoracocentesis is a common procedure that you must feel comfortable performing. A thoracocentesis is often life saving, and should be performed immediately in any dyspneic patient that is suspected of having pleural space disease. The thoracocentesis should be performed cranial to the rib, as the blood vessels and nerves lie caudal to the rib ("hiding" behind the rib). Thoracocentesis should be performed at the 7th to 9th intercostal space (ICS) to avoid the heart (3–5th ICS) or liver (caudal to the 9th ICS).1 The patient should be shaved, scrubbed, and prepared for sterile technique. The use of a three-way stopcock, extension tubing, an appropriately sized needle or catheter, and syringe should be used to collect air or fluid. Typically for cats, a 1-inch, 22-gauge needle or butterfly set up can be used. For dogs, a 1.5-inch, 18-22 gauge needle set up can be used, depending on the size of the dog. Appropriate sterile collection tubes should be available for sample collection for cytology and/or culture purposes.
A shortcut technique— rather than counting rib spaces in cases of severe emergency— is to draw an imaginary line caudal to the xiphoid along the lateral body wall. This is approximately the 8th ICS, and thoracocentesis can be performed in this area. If pleural effusion is present, the needle should be directed into the ventral third of the chest cavity; if a pneumothorax is suspected, the dorsal third of the chest cavity should be used for thoracocentesis.
Remember that while there are small risks associated with performing a thoracocentesis (e.g., lung puncture, hemorrhage, etc.), a thoracocentesis is much more benign and safer for the patient than performing radiographs, which may stress the patient unnecessarily and result in cardiorespiratory arrest if critically ill or severely dyspneic. Radiographs should be performed after a thoracocentesis, which would allow one to visualize if there is underlying parenchymal disease (which would not be visible if pleural fluid was obscuring the view on your radiograph). There's no point in stressing a patient to get radiographs when all you see if fluid; rather, tap first, then radiograph the patient once s(he) is more stabilize to see what's in the chest! While taking radiographs, oxygen therapy should be concurrently delivered.
REFERENCES:
Sauvé V. Thoracocentesis. In King LG (ed): Textbook of Respiratory Disease in Dogs and Cats, 1st St. Louis: Elsevier Saunders, 2004, pp. 137-142.
Copyright 2014, Justine Lee Veterinary Consulting, LLC.