Review of the Furbo Treat-Throwing Dog Camera | Dr. Justine Lee, DACVECC, DABT, Board-certified Veterinary Specialist
While we often use our nanny cams or home security systems to check out what's going on in our house, we haven't used technology to spy on our pets until recently.
Well, dog technology just got better.
I'm excited because I just got my first Furbo Dog Camera
, the dog treat tossing camera!
The original idea of the Furbo Dog Camera
was born back in June of 2014, and after a successful Indiegogo (Indiegogo even tested it also here!), they were able to release them in August 2016. Since then, it's been helping pet owners connect with their dogs while away at work.
What I love about the Furbo:
The packaging. Serious lessons from Steve Jobs here. Comes in a nicely packaged, super-easy-to-open box, and simple instructions.
Dude. It's really so easy to set up. I'm not tech-savvy (despite running a veterinary technology company, haha), and even I could figure it out within 2 minutes. I got it set up in minutes, compared to my other dog camera which is still sitting in the closet (as I don't have time to screw it into the walls!). Voila. Done in minutes. You do need Internet connection (e.g., ethernet or wifi), which I'm assuming most of us all have (or I'd die). You also need FAST wifi, btw, or your user experience will be poor. To find the specific Furbo specs, check them out here.
There's only 3 steps:
1. Plug in each end of the USB cable into the Furbo device and the adaptor.
2. Download the Furbo app through the App Store/Google Play.
3. Open the Furbo app and follow the on-screen instructions to complete setup.
It's multifunctional. While it's listed as a dog-specific camera, my cats are so smart to the sound, that they've figured out that they can run and eat dog treats too. More importantly, now you have an additional home security system for your house!
A few other cool functions?
It's got an HD camera with night vision, so you can spy and see what your dog is doing at night! (It's a 720p HD camera with a 120° wide-angle lens, 4x digital zoom and infrared LED night vision). This means you can literally put it in the corner of the room, get a great view of the entire area, spy on your pets, and still get clear pictures and videos too. There's a few second delay (2-3 seconds, depending on your wifi speed), but the cool thing is that you can actually record video from the Furbo app, which is very unique to this specific pet cam.
It also has 2-way audio with a built-in speaker and microphone, that way you can talk to your dog and hear your dog walking across your hardwood floors. The sound quality is really high and comes cross well.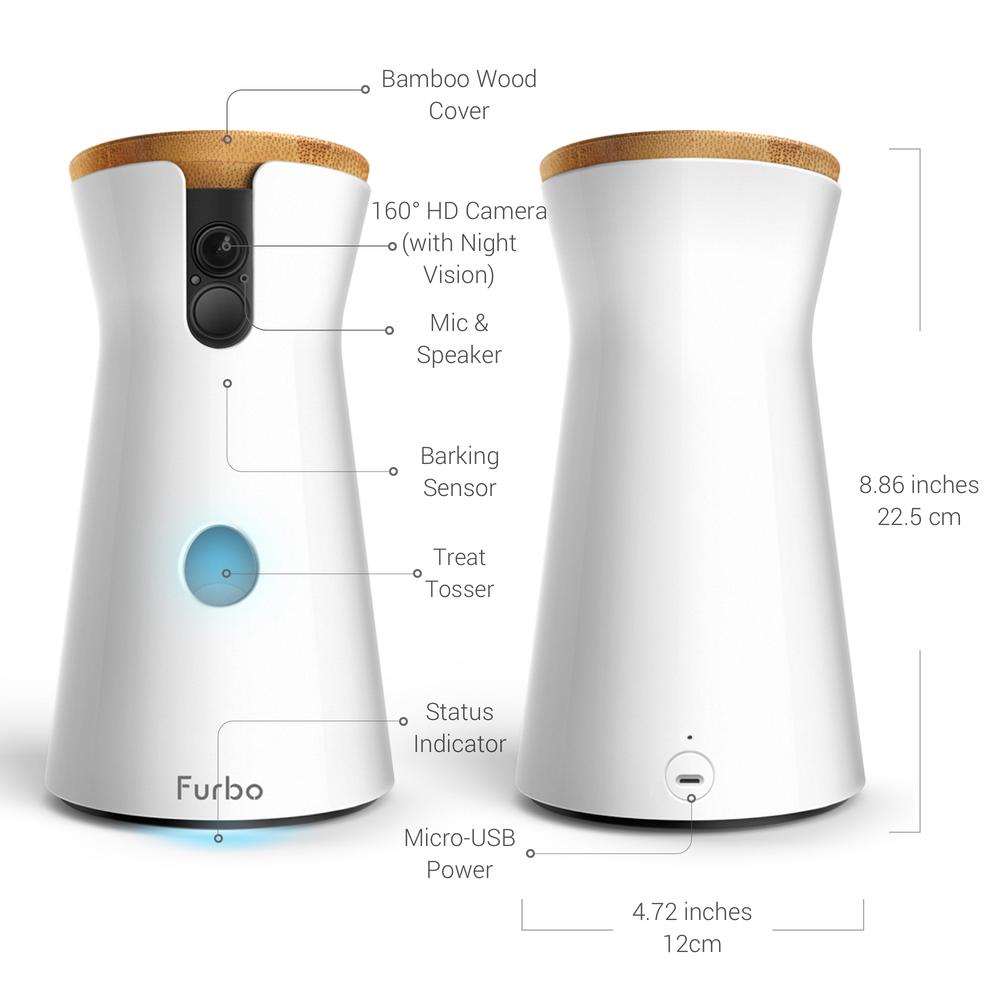 It's easy to refill. Simply pop off the lid and drop in your dog's treats. Now here's the veterinary warning – DUDE, your dog doesn't need that many treats! Pick low-calorie ones like these and please only fill this once a month. More than that? You're giving too many treats and your dog is getting obese. For real.
It works from my office. And my husband's office. I've tried it multiple times from different locations, and it works well!
The cons:
Apparently, the app went through several updates, which caused the app to work poorly. Looks like this was fixed recently however.
The treat well. Unfortunately, the well is surprisingly shallow, for as tall as the actual device is. Where the fill "maximum" line is at the bottom 1/5 of the actual Furbo. This means you need to refill it quite frequently (again, with low-calorie treats, folks!).
Multiple treat dispensing. I like how the Furbo dispenses treats, but it throws out 3-4 treats at the same time, which is a bit too much. I'll admit, I'm addicted to pressing the treat button on the app. I'd rather be able to press it more and have less treats come out. You do need to purchase mini-treats (like Zuke's Mini Dog Treats
) for this one – larger dog treats won't fit in here. #FirstWorldProblems.
It's easy to break into. If you have a food-motivated dog (e.g., Read Bad Dog), he can easily knock it over and chew into it. That said, this beautifully designed, sleek set up can be easily placed on a bookcase or shelf so it's not on the floor.
Furbo boasts that it has a barking alert, where it delivers push notifications to your smartphone when your dog is barking. While they advertising this as soothing your dog while it's barking, it's actually bad to give them a treat while they are barking (in other words, I'm rewarding you remotely for barking – here, have a treat!). This is inappropriate positive feedback for negative behavior. So, please don't give your dog treats while he's barking… only when he's quiet!
That said, I love this Furbo
overall. It lets me check out what's going on in my house (HINT: Put this in the corner of your living room or bedroom, where your dog spends the most time, as you get a really wide angle, high def view of the whole area!), what my dog is doing, and makes me feel closer to my pet even when I'm stuck at the clinic! More importantly, it's reasonably priced, seems really well built, is small for the high quality HD camera, and seems to work great so far. Overall, two thumbs up… and consider using it for your cat too…
Like it? Buy it for $199 here: