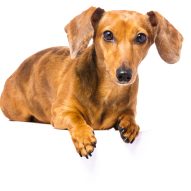 Sudden blindness in dogs | Dr. Justine Lee, DACVECC, DABT, Board-certified Veterinary Specialist
My dog can't see. My dog suddenly went blind.
If this happened to you, it's one of the most devastating, saddest things ever. I occasionally will see in the the veterinary ER, and most pet owners are devastated to hear the words "Your dog is blind."
If your dog all of a sudden went blind or lost his vision, it could be a disease called "Sudden acquired retinal degeneration syndrome" (often abbreviated SARDS). This is an acute problem in the retina (the back "film" of the eyes that causes red eye in photos) and unfortunately results in permanent blindness in both eyes. The frustrating thing about SARDS is that the eyes look physically normal on examination (to you and by your veterinarian).
With SARDs, there is sudden loss of the retinal cells – the rods and cones – to work. It's incurable and is very heart-breaking to pet owners, as it can affect quality of life or pet ownership to all of a sudden have a blind dog at home.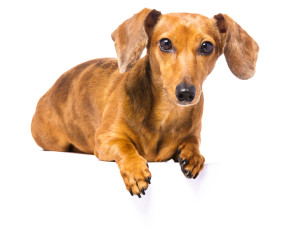 So, what are the clinical signs of SARDS?
Suddenly bumping into things
Sudden vision loss (although some owners report this gradually worsened over 1-2 weeks)
Hesitancy to walk
Inability to walk down stairs
Increased hunger
Excessive thirst
Excessive urination
Weight gain
Lethargy
While it seems strange to have the latter signs of increased thirst and urination, this is reported in approximately 30-85% of dogs with SARDS. A disease called hyperadrenocorticism, AKA Cushings disease, is often thought to be linked, although the exact mechanism is not known.
So what dogs seem to develop SARDs?
While SARDS can affect any breed or age of dog, it's more commonly seen in smaller (< 25 pounds), middle-aged to older dogs (e.g., 7-10 years of age), with the female sex being overrepresented. Interesting to note, it's rarely seen in dogs > 50 pounds (8%). The most common breeds affected appear to be:
Dachshund
Pug
Maltese
Brittany spaniel,
Miniature Schnauzer
If you think your dog has SARDS, get to your veterinarian immediately. They will need to do a thorough physical examination, which may include checking vision (with a cotton ball test, obstacle course, etc.), check the pupillary light reflex, menace reflex or dazzle reflex), and look in the back of the eyes with an ophthalmoscope. I'd also recommend making an appointment with a board-certified veterinary ophthalmologist ASAP (it will take weeks to get an open appointment, but get one!). You can find one here. That's because you'll want a test performed called an electroretinography (ERG). This is a test that evaluates the electrical response of the back of the eye – specifically how well the retina responds to a flash of light.  This will test the rods and cons and determine if your dog has SARDS or not. A "flat-line" response on an ERG is consistent with SARDS. Most general veterinarians do NOT have the ability to do an ERG, so again, this should be done at a veterinary ophthalmologist. If the ERG is normal, more invasive, costly tests like an MRI or CT under anesthesia, spinal tap, and consultation with a neurologist are necessary to make sure the blindness isn't from a brain tumor or neurologic problem.
What's the treatment for SARDS?
Unfortunately, there is no known treatment, as there's no known cause. SARDS is likely immune-mediated and similar to the human problem, autoimmune retinopathy (AIR). Some vets may try immunosuppressive drugs like steroids or even a very expensive drug called intravenous immunoglobulin (IVIg). However, there's no evidence yet that these work. Another immunosuppressive drug that is being investigated is the use of  mycophenolate for SARDS, but results of this study are still pending.
Can my dog live as a blind dog?
While there's no treatment, the good thing is that SARDS is not painful to your dog – however, lifestyle changes are necessary. Some dogs will initially go through a "funk" as they try to navigate their way around the house – that said, if you don't change the furniture around and can put up baby gates by the stairs, the long term prognosis is fair for quality of life. In one study looking at quality of life in dogs with SARDs, 80% of dog owners reported that their dog was able to navigate through the house with moderate to excellent skill once they got used to their blindness.  >75% of owners in the study felt that their dogs had average to excellent quality of life. So when in doubt, talk to your veterinarian and veterinary ophthalmologist about this sudden disease.