Tuggo Dog Toy Review | Dr. Justine Lee
Recently, I had the opportunity to try the Tuggo Dog Toy on my own 57-pound, pit bull mix. After seeing this ranked as one of top toys at SuperZoo, I decided to try it out myself.
First, I should clarify that my dog, Milo, is a ball-crazed mutt. He loves tennis balls, ChuckIt toys, soccer balls, etc. So when I took this one out, his eyes literally dilated!
The pros of the Tuggo Dog Toy:
The plastic is extremely durable and thick.
It's easy to unscrew the ball with a coin to add in water or sand.
It entertains your dog for long periods of time in the yard!
The rope can pull through on either side, even when the ball is filled.
The plastic is hard to chew through, making it dog-proof.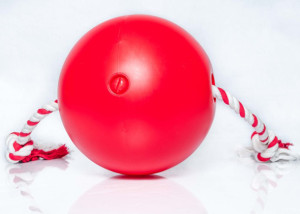 The cons of the Tuggo Dog Toy:
If you have a dog that likes to "break the neck" of a toy (in other words, flop the toy back and forth in his mouth), he can really bonk his head hard with the heavy plastic.
The plastic is hard to grab (like a regular soccer ball), making it really hard for a dog to bite into. This drove my dog nuts as he really wanted to bite the ball. But it was entertaining!
The rope – despite its thickness – was partially chewed through by Milo within a few days. It was completely chewed through within weeks.
When the rope gets wet (when you leave it outside), it starts to rot and rip even more.
The Tuggo Dog Toy is so heavy – when filled – that it kills the grass sitting under the toy when left dormant on the yard. But seriously, what dog owner has a nice lawn?
Overall, was really happy with the toy. Definitely fun and entertaining. Check out Milo playing with the video here!