Using Senilife, a holistic supplement, for my senile old cat | Dr. Justine Lee
As a veterinarian, I was concerned when my 18-year-old, domestic shorthaired cat started acting senile. He was showing the following signs at home:
Howling randomly at night
Walking around randomly screaming at doors
Seeming slower
Acting deaf or non-responsive when I called to him
Sometimes we can see this from underlying medication conditions that are seen more frequently in geriatric cats such as:
Hyperthyroidism (an overactive thyroid)
Hypertension
Chronic kidney failure (an overactive thyroid)
Cancer
Osteoarthritis
Deadfness (an overactive thyroid)
Blindness (secondary to hypertension, etc.)
When in doubt, get to your veterinarian for a thorough examination and blood pressure check (My general advice is call first to see if your veterinary clinic can check a blood pressure with a Doppler machine like this one below; if they can't and don't have a blood pressure monitor in their clinic, find a new veterinarian!).
Your veterinarian will also recommend doing the following blood work to make sure your senile cat doesn't have any other medical conditions. Tests will include:
Complete blood count
Biochemistry panel
Urinalysis
T4 (thyroid test)
X-rays
Once your cat checks out ok, and it turns out to be cognitive dysfunction (or senility), I'd recommend a holistic supplement that you can safely purchase online or from your veterinarian. When in doubt, you can also consult with a board-certified veterinary behaviorist; find one in your area here!
I just started using Senilife in my own cat after recommendation from a veterinary behaviorist. Honestly, I love this product (and I have nothing to disclose – I have no association with this product at all). I've only used it for 4 days in a row so far, and it's worked really well. My cat, who howls and screams every single night, hasn't screamed at all except for the one night that I also forgot to give him his nightly pain medication, gabapentin. Couldn't be happier – I simply cut the end of the red capsule off, squeeze the brown liquid thick contents into a cat bowl, add 1 tsp of a prescription cat food that is really palatable (You can get this from your veterinarian – I use Purina Critical Nutrition diet).
If you have a small dog (< 50 pounds), you can use Senilife for dogs up to 50 pounds.
This is the one I use in my cat at 1 capsule per day:
For larger dogs, you likely need the "XL" size here:
The recommended dosing for dogs is here: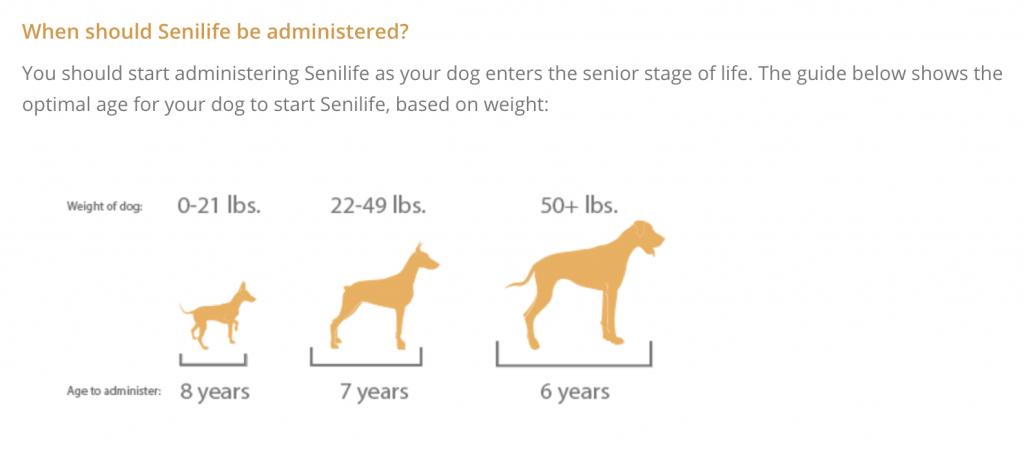 So, what's in this behavioral supplement and how does it work? First, it seems really benign as it contains the following natural ingredients:
Phosphatidylserine, which improves nerve-cell communication and helps this process continue working effectively.
Pyridoxine (vitamin B), which is essential for normal brain development, function and heath
Gingko Biloba Extract, an herbal plant that improves cerebral blood flow, increase glucose metabolism, and has a strong antioxidant effect
Resveratrol (a stilbenoid found in plants), an antioxidant which protects neurons from toxic substances which can cause cell death
D-alpha-tocopherol (vitamin E), which is a strong antioxidant action and proven effectiveness on cognitive decline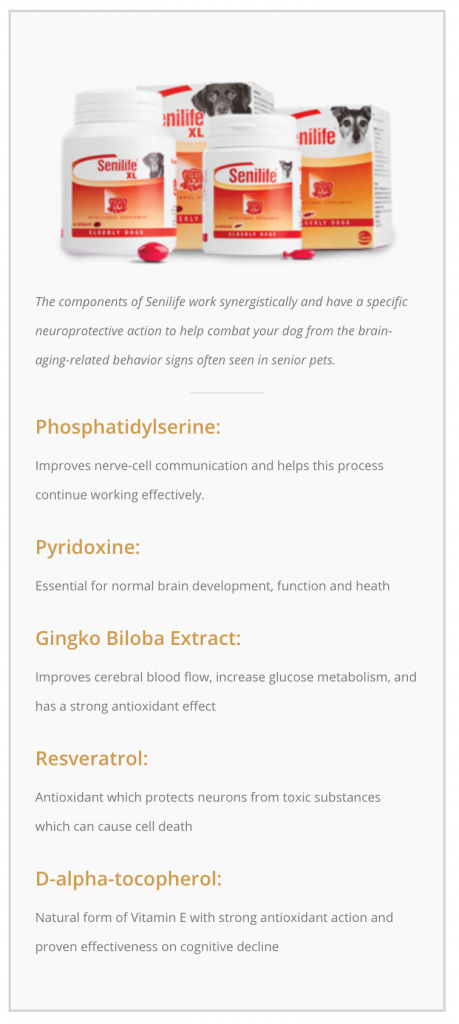 Again, I just started using this in my own cat, so I'll keep you posted in a few months if it's helping or not! Hope it helps and please share below if you've had positive or negative responses in your dog or cat!