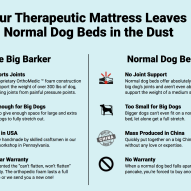 Veterinary review of the orthopedic dog bed Big Barker
As Milo becomes more and more geriatric (EEKS!), I've been on the hunt for a comfortable orthopedic bed for him. But in full disclosure, I'm a cheap (e.g., read FRUGAL) veterinarian. So, I was excited to try out a Big Barker bed. In full disclosure, they sent me one on the house to check out. Instantly, Milo walked over and sat on the bed. And then my 3-year-old human toddler kid did too. Apparently, they both love the Big Barker bed.
What I love? Both my 60-pound dog and 40-pound, leggy kid can fit on it – these Big Barker beds are really big – they are meant for large dogs, and able to hold the weight well. More importantly, as Milo ages, his osteoarthritis in his legs makes him gimpy… and I'm looking for something that will help tend to his sore joints (after a long day of frisbee catching!). My dog has callouses on his elbows, so I want an orthopedic dog bed that will help keep him comfortable. These Big Barker beds are specifically designed to support big dogs (I love big mutts and I cannot lie!).
As a veterinarian and veterinary specialist, I end up seeing a lot of dogs (and cats) present in the veterinary ER due to lameness, pain and arthritis. Osteoarthritis can be debilitating in dogs, and result in chronic pain. Signs of osteoarthritis pain including: excessive licking, limping, hesitancy to jump up and down furniture, having a difficulty time getting up or laying down, muscle wasting (especially in the hind limbs), trembling, shaking or even whining. If you're not sure if your dog has arthritis or not, check with your veterinarian – we often detect this on physical examination and on x-rays. If your dog has callouses or elbow hygromas, that's usually a sign to me that your dog also needs a softer orthopedic bed!
You can see my review on YouTube here:
That's why I was honored to do a review of the orthopedic dog bed Big Barker – and I'll attest that as a veterinarian AND dog owner, I do recommend it. Big Barker beds are expensive, but worth it especially for big dogs that have joint problems, hygromas, certain diseases (like Lyme disease, rheumatoid arthritis, or immune-mediated joint disease), or arthritis/ osteoarthritis.
The thing I love the most about the Big Barker bed is that it has a very thick OrthoMedic foam (like memory foam) that doesn't "sink in" or flatten. The Big Barker bed foam helps distribute weight evenly and eliminates pressure points, so this bed is REALLY helpful for dogs with elbow hygromas! It even comes with a headrest.
I know that my alma mater, Penn Vet (where I did my emergency critical care residency), is in the process of doing a clinical trial where they evaluated Big Barker beds in dogs with arthritis. They found that the beds did help increase mobility, increase overall quality of life and reduce pain. Specifically, this study found that there was anywhere between a 10-22% improvement in pain severity score, joint stiffness improvement, joint function, gait, and quality of life.
You can see the preliminary results below:
But is the Big Barker bed worth the price? While these dog beds are pricy, they feel like a Bamboo pillow for your dog. I joked with my family that we were going to take this Big Barker bed camping next time for the kiddo to share with the dog – that's how comfortable they are!
The only negative that I would say is that as the bed has a very durable cover, but dirt and sand doesn't "hide in it" the way it would for another dog bed. So, you do have to brush or vacuum the top of the bed off occasionally.
Otherwise, great orthopedic dog bed and veterinary recommended from this veterinarian!
You can find more information at Big Barker dog orthopedic beds here: https://bigbarker.com/