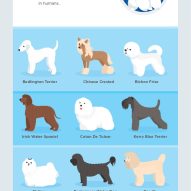 Why do dogs shed? | Dr. Justine Lee, DACVECC, DAVT, Board-certified Veterinary Specialist
If you have a dog —no matter what kind of a dog— you're probably going to encounter hair. And if you encounter dog hair, you're going to encounter shedding. Most of the time, shedding is an annoyance that you just have to learn to live with — because there's nothing a dog can do about it. It's biological, and actually a way for a dog to maintain good skin health. Some dogs do so in a twice-a-year process called blowing their coat, but most of the time shedding is fairly uniform. And of course, some breeds, such as German shepherds, shed more than others.
One thing to realize about breeds and shedding is that long-haired breeds still lose hair, but they don't lose it as often as short-haired dogs. There are even a select few dogs that have non-shedding coats. But for most people, hair is a challenge to be dealt with. What causes it and what can you do?
Does your dog shed? Can you shave your dog's fur? Here, a great infographic from PetCo on what you need to know about your dog, his or her fur and what you can do about it!