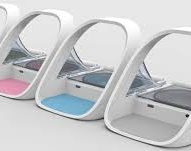 Why this veterinarian loves the SureFlap microchip feeder SureFeed | Dr. Justine Lee
As a veterinary specialist and pet owner, I see a lot of pet products out there that are gimmicky and not worth the financial investment. That said, once in a while, I see a pet product that I LOVE and try out on my own pets.
My favorite product as of late? The SureFlap, a microchip-activated automated pet food dispenser.
Why do I love this? Because as a veterinary specialist, I'm often dispensing prescription pet foods for specific diseases. For example, if you have a cat with food allergies, a hypoallergenic (such as Purina Veterinary Diets Canine HA Hypoallergenic food
, Hill's Prescription Diet z/d Canine ULTRA food
, Royal Canin Veterinary Diet Ultamino food
) or novel protein diet (e.g., Potato & Rabbit Dry Dog Food
, ROYAL CANIN Canine Hypoallergenic Selected Protein Adult PD
, etc.) is necessary. While it's safe for multiple pet households to feed these prescription foods to all the pets in the household, these prescription foods are very costly. So being able to match a pet to a specific microchip-activated automated pet food dispenser makes it easy – it allows the one pet that really needs the diet to be it's ideal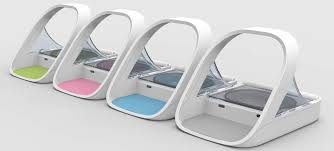 So, I'll admit it – I reached out to SureFlap so I could test it on my own cat, Seamus. He's a 17-year-old cat with chronic kidney disease, and is on a low-protein diet (to minimize extra strain on the kidneys). And his prescription cat food is really, really expensive! (This makes me very empathetic to all you pet owners out there with pets on these costly but really good diets). My other 9-year-old cat, who is totally healthy, loves to eat it (Not sure why, as it's lower in protein and not as tasty!). So I wanted to be able to try out the Sure Flap to see if it worked.
Now, to warn you, the SureFlap comes with a huge instructional guide on how to train your pet to get used to the slow-moving cover of the feeder – the noise of the door opening and closing would scare any shy cat. Initially, I had a hard time getting Lily used to this, as she is extremely skittish and shy.
Then, voila. I decided to try it on Seamus. While Seamus has a microchip (that I put in 17 years ago), it has slowly migrated down to the side of his thorax, making it harder for the Sure Flap to pick up on the microchip (as he'd have to stick half his body into the Sure Flap for the sensors to pick up the microchip). Instead, I reset the Sure Flap to pick up on another microchip number (you can store multiple chip numbers into this automated feeder). I used the Sure Flap pet tag, attached it onto a breakaway cat collar, put it on Seamus, and literally within one day, he was using it!
So, the pros:
Allows for controlled feeding of certain diets in a multi-pet household
Comes with an appropriately cat-sized microchip tag that you can add onto a collar if your pet isn't microchipped
Is easy to clean
Has a well-written but simple instruction guide
Doesn't have an electric cord plug in, so can move anywhere in the house
Works for dry or canned food
Seals and protects the food so it isn't exposed to air
Prevents the odor of canned food from spreading through the house!
Works with all microchips out there on the market!
Prevents dogs from eating cat food
Cons:
Didn't work for Lily, my shy cat
Got frustrated trying to get Lily to use it as it requires a lot of patience
Requires 4-C batteries every 6 months
At $150 for an investment, it's pricey. That said, if your pet is on a prescription diet or you have a multi-pet household where food stealing is an issue, this invention is the dream!
Do you have one? Add your comments below too!