Worst Super Bowl GoDaddy puppy ad ever | Dr. Justine Lee
Marketing team at GoDaddy? Watch your mailbox for the pink slip. Or your back from animal rights activists. I'm just saying…
OK, we know animals are cute, right? But when promoting backyard puppy mills in your Super Bowl 49 ad, you're going to lose a lot of dog lovers out there… and veterinary professionals.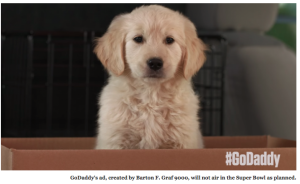 While I love GoDaddy (I use them for my domain name), I have to admit that I'm a firm believer of "Don't breed or buy when homeless animals die." Don't get me wrong – if you're looking for one particular characteristic, breed, etc., a purebred is the way to go. Just do your research to make sure you're not getting a lemon (More about this in my dog book It's a Dog's Life… But It's Your Carpet).
Haven't seen this atrocious  GoDaddy ad yet? Check it out here:
http://www.adweek.com/news/advertising-branding/godaddy-pulls-super-bowl-ad-after-complaints-about-puppy-mill-humor-162590
Kudos to the CEO of GoDaddy who elected to pull the ad. Smart. Because people are slamming you in social media, man.
Kudos to Budweiser who topped off it with a BETTER Super Bowl ad here:

So weigh in? What are your thoughts?