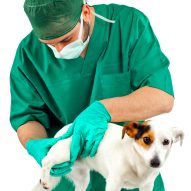 Canine Influenza outbreak at dog shows in Florida | Dr. Justine Lee, DACVECC, DABT, Board-Certified Veterinary Specialist
If you live in Florida or Georgia, or have brought your dog to a recent dog show, read on!
A recent outbreak of H3N2 Canine Influenza Virus (CIV) has been confirmed in Florida, and was thought to spread from two dog shows in Perry, Georgia or Deland, Florida the weekend of May 19-21, 2017. So far, approximately a dozen dogs have tested positive for H3N2.
As dogs have no natural immunity against Canine Influenza Virus, they can easily develop clinical signs. Symptoms can last for up to 30-60 days in extreme cases, but typically last 1-3 weeks.
Signs of CIV include:
Sneezing
Coughing
Pus discharge from the nose
Fever
Inappetance or not eating
Lethargy
Difficulty breathing
Exercise intolerance
Gastrointestinal signs (e.g., vomiting, diarrhea) albeit less common
Treatment for CIV includes antibiotic therapy, hydration, x-rays to make sure that pneumonia isn't present, oxygen therapy, supportive care, and sometimes anti-cough medication. Anti-cough medication (antitussives) ideally should only be used if pneumonia has been ruled out on x-ray, as it can make pneumonia worse.
While there's no proof that this virus infects humans, it has been reported to spread to cats. However, it is extremely infectious, so if you live in a town near these two outbreaks, I would avoid dog parks, dog grooming facilities, pet stores, obedience facilities, kennels, etc. until this passes! Anywhere your dog could have nose-to-nose contact with another dog should be avoided to be safe. You can also talk to your veterinarian about getting vaccinated for it (the vaccine contains protection for both H3N2 and H3N8 in one vaccine). If your dog has any of the clinical signs above, a 21-30 day quarantine is recommended for dogs with H3N2 strain.
In cases that require hospitalization, isolation measures should be taken to make sure other hospitalized pets are not exposed.
For more information, check out information here, CIV, and here.