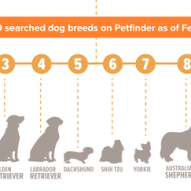 Great infographic on dogs in search of forever homes! | Dr. Justine Lee
Did you know that almost 4 million dogs enter shelters a year? Sadly, over 25% of them are euthanized. When in doubt, "don't breed or buy when homeless animals die!" Even if you're looking for a specific breed, you can adopt one through PetFinder or a breed-specific rescue.
Here's a great infographic from Orvis and PetFinder – please share and help spread the word to adopt more dogs out there!