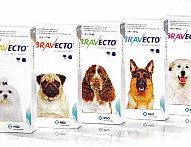 New flea/tick medication by Merck just approved: Bravecto | Dr. Justine Lee
The FDA just announced last Friday, May 16, 2014, that is has approved Merck Animal Health's (MRK: Quote) newest flea and tick chewable tablet  for dogs called Bravecto. The active ingredient is fluralaner, a new ectoparasiticide that belongs to the isoxazoline group (which works directly on GABA receptors in insects). Bravecto has been used in the EU for several months, and has been well received by the veterinary  and pet owner community.
Bravecto comes in a pork-flavored, hydrolyzed chewable flavored soft chew; it's hydrolyzed, so can be safely given to dogs with food allergies also. Bravecto comes in multiple sizes for dogs (11.5 mg, 250 mg, 500 mg, 1000 mg, 1400 mg) and is unique is that is quickly and effectively kills fleas and multiple tick species [including Ixodes (commonly known as the hard shell deer tick); Deracentor (commonly known as the American dog tick); and Rhipicephalus (commonly known as the brown dog tick)] within 12 hours. Bravecto also kills Amblyomma (the lone star tick), but this only lasts for 8 weeks after dosing (due to the unique way that lone star ticks ingest their blood meals).
Studies have shown that a single dose of Bravecto can quickly, safely, and effectively kill fleas and ticks within 12 hours – this is amazing news, since it will help prevent the transmission of Borrelia burgdorferi (the spirochete that causes Lyme disease) before the tick can transmit it to a dog. Down with Lyme disease and it's deadly chronic form (Lyme nephritis, more often seen in Golden retrievers and Labrador retrievers).
This product may revolutionize flea and tick medication! It doesn't contain neonicotinoids (thus, not posing a risk for any of us honeybee lovers), and can safely be given to even pregnant bitches. The most common side effects reported by the company include mild and transient gastrointestinal effects (e.g., vomiting, decreased appetite, diarrhea, farting – yes, farting); lethargy, and increased thirst.
Check with your veterinarian, as it should be available in June 2014. Have an experience with the product? Love it? Hate it? Weigh in below!