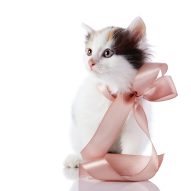 Samples needed for Feline Infectious Peritonitis (FIP) | Dr. Justine Lee
Do you have a cat that is suspected of having FIP?
The research lab of Dr. Gary Whittaker in the Department of Microbiology and Immunology is soliciting samples for their clinical trial and diagnostic test validation for feline infectious peritonitis, a devastating and highly lethal systemic infection of cats caused by a feline coronavirus (FCoV). FIP is commonly considered to be the most significant infectious disease in feline medicine, and is currently without useful molecular diagnostic tests, effective therapeutics or vaccines.
Under normal circumstances, the FCoV virus known as feline enteric coronavirus (FECV) causes only mild and often inapparent enteritis. It is hypothesized that a process of mutation within an individual cat confers the ability of a FECV to infect monocytes and macrophages, allowing systemic spread and the selection of a virus that causes FIP.
Despite extensive study, the genomic differences that determine whether an FCoV will behave as an FECV or an FIPV have remained largely unknown. The Whittaker lab has recently determined that a subset of mutations at two specific positions in the viral genome appear to be correlated to FIP in cats. In order to quantify the likelihood that a given genomic mutation can predict or indicate FIP in cats, the Whittaker lab has developed a diagnostic scoring system that returns the test results for FIPV in cats, compared to FECV, which will comprise the basis of a novel diagnostic test for FIP.
The Whittaker lab is currently in need of samples from both healthy and/or FIP cats.  Samples from healthy cats should include feces paired with blood, while samples from FIP cats can include feces paired with blood, fluid or tissue.
The Whittaker lab will provide shipping costs to interested participants.  Please contact Wendy Wingate (fcovstudy@cornell.edu) for more information.