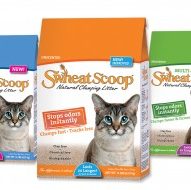 Should I switch my cat's kitty litter to SwheatScoop? | Dr. Justine Lee
After 16 years of putting up with traditional clumping kitty litter (which is made of bentonite clay), I decided to try something more eco-friendly. Back in 2008, when I wrote my cat book It's a Cat's World… You Just Live In It, I advocated for clumping kitty litter as the #1 kitty litter that cats prefer (based on what veterinary behaviorists recommend).
That said, since writing that book, I've changed my mind… I  was getting sick of clumping litter.
So, why do I hate clumping kitty litter?
It tracks all over the house – especially into the bed!
It clumps on my cats' feet, and they have small clay balls stuck on
It's super dusty, and my basement furnace actually stopped working once as some of the delicate tubing was filled with kitty litter dust (and that's with a HEPA air filter running for 6 hours a night!)
It sticks – it's got this concentrated fragrance that is supposed to smell good, but is overwhelmingly disguisting
Did I mention dusty?
So, I decided to reach out to SwheatScoop to see if they wanted to sponsor a blog. Let me check it out. So, in full disclosure, they let me try out two bags. Here, you can check out my YouTube SwheatScoop initial video here.
Now, keep in mind that cats don't like acute, sudden change. With cats, you have to change anything to their environment slowly. (Read that as, I'll-start-peeing-outside-of-the-litter-box-if-you-change-things-suddenly!). So, I scooped and cleaned the boxes, and then added in about 50% SwheatScoop.
Stay tuned… and I'll let you know if the cats accept it! Check back in a few days to find out if it passed the Seamus and Lily test!