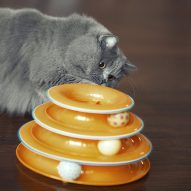 Top 10 holiday gifts for cats | Dr. Justine Lee, DACVECC, DABT, Board-certified Veterinary Specialist
Cat-Christmas is coming! Sure, you should get gifts for your 2-legged kids and spouse, but let's not forget our feline friends! Here, the top 10 holiday gifts you need for your cat this year. (For you dog owners, fear not. I haven't forgotten about you. Tune in next week for your top 10 holiday gifts for dog lovers!)
First, how do I pick which cat toys make the "Top 10" list? As a veterinarian, I want cat toys that are:
Safe: As an emergency critical care veterinary specialist and toxicologist, I don't want a cat toy that's going to cause you to end up in the emergency room with your cat! So, nothing that's going to break off, get stuck in the stomach or intestines (e.g., string, yarn, or dangly parts), or contain poisonous "Made in China" zinc or lead parts, OK?
Durable: I'm not a huge shopaholic, but I want something sturdy that's going to last at least one season.
Stimulatory: Cats are often sedentary (e.g., read lazy), which make them the ideal pet for apartment living. But they still need environmental enrichment to mentally keep them sharp. I've picked some toys that help stimulate the predatory drive in your cat and keep your cat entertained for hours (while keeping wildlife, mice and birds safe in the process).
Healthy: Did you know that 60-70% of cats in the United States are overweight to obese?  I want a product that will help get your cat moving and losing some weight.
So, without further ado, buy me these top 10 cat toys, peeps.
1) A self-cleaning kitty litter box
Seriously, I love cats. But the smell of their poop in my basement and house sucks. And the tracking of kitty litter all over the carpet gets old quick. While it's expensive, the Litter-Robot
might be the best cat splurge ever… followed by the Roomba coming in at #10.
2. OK, this gift is for the sushi-loving cat owner. Sushi Cat!
These are cat toys in the shape of sushi with organic catnip inside. Hello! I want!
3. After your cat has rested all night, nothing beats sleeping some more. In the sun. And what better way to do this than to look outside and enjoy your room with a view from the World's BEST Cat Perch
The benefit? This window-mounted cat bed provides great entertainment for your cat. And it's actually a lot safer than letting your cat go outside, where they can potentially get lost, get hit by a car, or adopted by a random neighbor. When in doubt, make sure this bed is well suctioned and secured… or your cat will never touch it again.
4) Nothing beats stress relief than a day at the spa. What your feline friend needs? A cat massage center
where they can rub their face all over this toy. What they're actually doing is marking their pheromone all over your plastic belongings, but it feels oh-so-good! For $20, you can't go wrong with this one. Top it off with some catnip to entice your cat to get the rub on.
5) If you have kids (2-legged ones), you've probably discovered that it's the random empty box that they love. Well, this one is similar for your cat. This $15 SmartCat Peek and Play Toy Box
basically is a box with holes. And yet somehow your cat will find it entertaining. Throw some cat treats in the middle, and watch your cat attempt to work them out of the holes on the top and sides!
6) Admit it. Your cat is fat. If your cat likes to gorge on his or her food really quickly, only to vomit it back up several minutes to hours later, this $6 PetSafe Egg-Cersizer meal dispensing cat toy
 is for you. It's a great way of being able to provide your typically-nonactive-cat some much needed environment enrichment. In other words, make him work for his food, play a bit, and lose some weight in the process.
7) If you have a kitten, you gotta buy this huge pack of cat toys
 for $12 – after all, all these cat toys will end up under your sofa, so you might as well get a bunch in the lot. Just make sure to keep these cat toys out of your bedroom, because you'll soon realize your kitten likes to play with these toys at 2 AM.
8) Another fun toy? You need Da Bird
 ($20), which is a feather on a string toy with a plastic (or fiberglass) handle. The feather toy is a great way of entertaining your cat – just be careful if your cat chews on the pieces (when in doubt, always supervise your cat while playing with toys so they chew any pieces off). Also, some older reviews say that the fiberglass handle can splinter off when handling – when in doubt, so just be careful.
9) The FURminator. While your cat might not view this as a gift, it secretly is the power weapon. I've tried lots of different types of combs and brushes on my dogs and cats, and this one is my #1 go to… unless you have a Sphynx. If you have any type of cat with fur, this FURminator  ($17) specifically works at removing the undercoat. Just be careful, as it's easy to remove too much fur! Just 10-20 swipes a week, and your cat will be matt-free.
10) OK, this last gift is for you. Not your cat. Not unless you're this cat. The Roomba
 ($360) will change your life. Seriously. I had to wait until my early 40s to be able to afford one, and with 2 cats and 1 dog, I regret not getting one for my house a decade earlier! Simply clear the floors, push a button, and watch this thing clean the floors in a mesmerizing fashion while you're drinking your coffee (with shrieks of "This is so amazing!" as you sip).
And last one… to help support Cornell Vet School and the companion animal fund, the Men of the Vet School Calendar! It's available on Etsy here.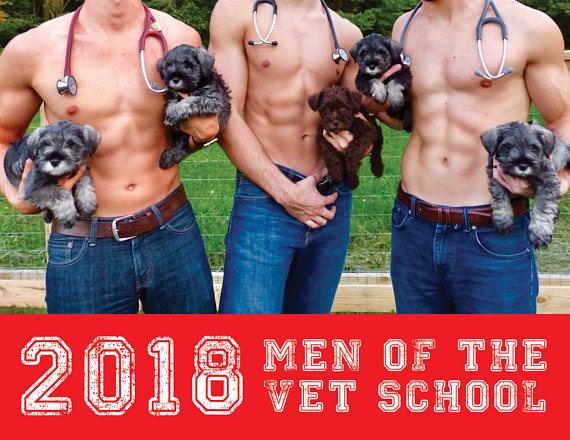 So what are you waiting for? Love up your cat and buy him or her some much deserved toys for 2018! #ad